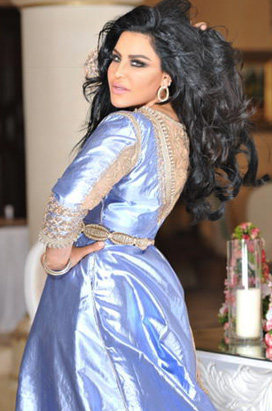 Full Name : Ahlam Ali shaikh Hazeem Jassim Al-Shamsi
Birthday : Febuary 13 , 1969
Ahlam was born in Abu Dhabi, the daughter of Ali Bin Hazim Al Shamsi ( from Dubai, UAE ) and Fawzia Al modahka ( from Bahrain ). She lived part of her childhood in Bahrain , then returned to he UAE to complete her school and university. Ahlam started her singing career when she was a little child. She used to sing in school plays and national ceremonies, and through this she was noticed by the Kuwaiti music composer, Anwar Abdullah. This recognition lead Ahlam to sign a contract with Funoon Al Emarat, a local Gulf-Music production company. The composer Anwar Abdullah also assisted her through the release of her debut self-titled album, (Ahlam). Now Ahlam, is considered the most famous female singer in the Gulf, and one of the most famous and richest singers in the middle east. She is married in 2003 with the famous Qatari car racer Mubarak Alhajiri. She has 3 children, Fahid (2004), Fatima (2008) and Lulwa (2010).
Ahlam is also one of the richest Arab singers. She is believed to be one of the most highly paid singers in Rotana.
noon Al Emarat
Ma'aa Al Salamah 1996, Funoon Al Emarat
Kaif Artha 1997, Funoon Al Emarat
Ma yeseh Ela El Saheeh 1998, Funoon Al Emarat
Tabee'ee 1999, Funoon Al Emarat
Mekhtlef 2000, Funoon Al Emarat
Le Elmak Bas 2001, Funnon Al Emarat)
Ahsan 2003, alam alfan
El Thokol Sana'a 2006, Rotana Records
Hatha Ana 2009 Rotana Records
Maw3edak 2013