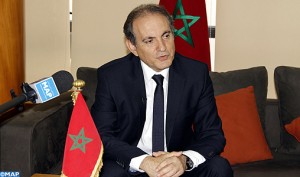 The 21st Fes Festival of World Sacred Music was a great success. Many African artistic and musical groups performed and paid homage to the historic links between Morocco and the rest of the continent.
These exceptional performances were covered by national and international media, including representatives from Spain, France, the United Kingdom, Poland and the United States.
Fes is ready to welcome the 22nd festival from 6-14 May 2016, with the theme Women Founders.
Moroccan women have always left their mark on history. They have always played a pivotal role in the development of the Kingdom, as is shown by the following examples: the symbolic role of the wife of Moulay Idriss, Kenza El Awrabiya, was the origin of unification between the Amazigh people and the Arabs, which forms the basis of Moroccan society. The first Moroccan university, the Karaouine in Fes, was founded by Fatima Al Fihriya as a centre of Islamic education and religious study, and has been a beacon of the spiritual capital of Morocco since the middle ages.
In 18th century, Khnata Bent Bakkar, wife of Moulay Ismael, was impressive. She held the positions of minister and secretary to her husband, and then took over the reins of power for 25 years after his death.
During the struggle for independence, Moroccan women formed part of the resistance movement and fought alongside their men.
In contemporary Morocco, women's rights came to the fore when the Family Code was made law on 10 October 2003, putting Morocco at the forefront of Arab and Muslim countries.
This 22nd Fes Festival pays tribute to these women founders with the opening concert, a premiere featuring artists from many countries.
This year sees the inauguration of a new concept, where each Festival honours one particular country: we begin with India, a country of such great history and culture. Festival-goers can admire this splendour at a special evening on 7 May at Bab Al Makina.
In addition, new Moroccan talent will from now on be able to perform at the Festival and become better known. The Festival in the City this year promotes many young Moroccan artists.
Another initiative of the Fes Forum is the organisation of Days in Fes along with the well-known media Nouvel Observateur and the Le Monde group. This enriches the Forum debates as well as promoting the growth of the city itself.
The Festival website has been improved to provide all the information to help organise your stay; please take a look and let us know if you have any suggestions.
The largest and oldest Medina in the world, currently undergoing an ambitious programme of restoration of its monuments, is delighted to welcome you for this 22nd Fes Festival of World Sacred Music.
We'll see you soon.
Abderrafih Zouitene
President of the Fes Foundation