Fes and the Festival
Lively and hospitable, Fes does not give up its secrets easily. From the surrounding hilltops where the Merinid tombs seem to slumber, a shimmering sea of green copper roofs rises above the sun-splashed city walls. Hidden behind this anonymity is a heritage that is only sometimes revealed to travellers.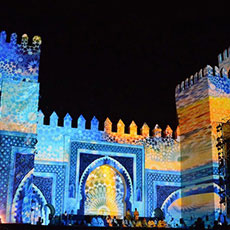 Fes was for many centuries the political and intellectual capital of Morocco, and became a centre of encounter and exchange. It is said that Sylvestre II (Gerbert d'Aurillac) who was Pope from 999 to 1003, stayed here in his youth to study, and later introduced Arabic numerals into Europe.
Maimonides, the Jewish physician and philosopher, taught at the Karaouine University. The work of this great thinker is a wonderful illustration of the symbiosis that existed in Andalusia between Jewish and Islamic cultures; an echo of this is found in Fes.
The Fes Festival of World Sacred Music and the Fes Forum, founded in 1994 and 2001 respectively, are dedicated to the traditions of knowledge, art and spirituality of the city. Since their inception, these events have enjoyed a growing success.
The Fes Festival was designated in 2001 by the United Nations as one of the major events contributing in remarkable fashion to the dialogue between civilisations. Other tours were organised in October and November of 2006 in several cities in the US, culminating in a concert at New York's Carnegie Hall. Other cities such as Milan, London and Madrid have expressed an interest in becoming relay-stations to spread further the message of the Festival and its Forum: that of interfaith dialogue through music, the creation of a culture of peace encouraged by globalisation, and respectful of ethical and spiritual values.