Bab Al Makina – 21h00
Durbar:  to the glory of princes and in praise of Gods – international premiere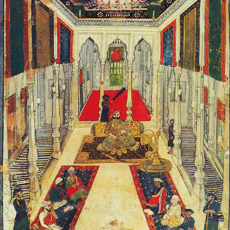 Homage to India: The greatest Indian singers and musicians perform in this splendid musical event
For many centuries in India great court musicians performed their art within the palaces of Rajput dynasties and Mughal nabobs. For a durbar or prince's court meeting, a public audience attended along with the more formal court, making for flamboyant performances. Here artists and courtesans performed with pride and delicacy; everyone enjoyed their songs, gestures, artistry and mastery.
Here in Fes at the sumptuous Bab Al Makina with the stage set for the occasion, a night of virtuosity awaits us, for we are princes and princesses of the royal court for an evening. Coming from all corners of India, some 15 classical soloists and percussionists are on stage with the Rajasthani singers and the hypnotic Kathak dancers. Be they bold rising stars or well-known members of the established set, all have been chosen for their creative genius. After all, who could be better to demonstrate their miraculous arts and show off their mastery?
In the tradition of begum singers, who enchanted the princely court with their somewhat impertinent charisma, the young yet already superb Rageshri Das opens this exceptional Durbar. Alongside are two revelations: Shashank Subramaniam and Rakesh Chaurasia, both masters of the Bansuri flute in the Carnatic and Hindustani tradition. They play with Ustad Irshad Khan with his powerful style of playing the surbahar (bass sitar), Soumik Datta, lively exponent of the sarod and Alla Rakha Kalavant whose celebrated name is associated with the sarangi.
To accompany them, an invitation to no less than Ustad Sabir Khan, the 33rd caliph of Farukhabad Gharana, the principle tabla school, has produced his two young sons Arif and Asif. Performing outside Bengal for the very first time, they share the stage with the master percussionists Shahbaz Hussain and Parupalli Phalgun.
It would not be possible to assemble this Durbar without representatives from the world of folk music. With their voices already showing the harshness and severity of the Tahr desert, the children of Chota Divana present the work of the bards of the 'Land of Princes'. Anwar Khan Manghaniyar and Gazi Khan Barna, well-known on the international stage, make these musical gems shine even brighter.
This assembly is punctuated by frenzied classical Kathak dancing at its most rhythmic and masterful. From the Japur Kathak Kendra, four of the very best dancers perform here to show us the brilliance of this music that goes back to the beginning of time.
Artistic conception: Collectif ECHO