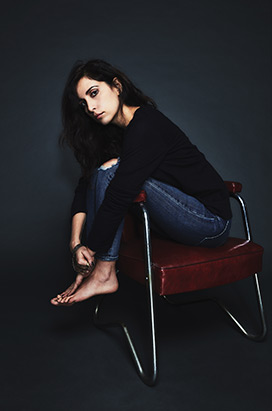 YASMINE HAMDAN – Pop icon – Lebanon
Liban
My heart is as helpless

As the river is

Inaccessible to all

And the waterfall follows its course

From the end of the spring

To the beginning of the sea

~ Maya Sabah, Syrian poet
Yasmine Hamdan is the rebellious princess in an Arab musical, particularly a Lebanese one. Representing a new genre, she engenders a timeless feeling, showing a kind of nomadic aristocracy and an echo of her incessant moving from a young age, from the Gulf of Beirut to Greece and on to France.
Conscious of the heritage of great Arab women singers of long ago, Yasmine is inspired by the artists of the Arab Peninsula to Egypt, from the beginning of the 20th century to the 1970s. Some of these are half-forgotten now and some still shine, including Aisha El Marta, Nagat El Saghira, Asmahan, Shadia and Mounira El Mehdeyya.
Contrary to banal pop that rests awkwardly on the American model, Yasmin's electro-folk style has mysterious elegance and ethereal sensuality where the theatricality is revealed through bewitching guitar riffs.
Website: http://www.yasminehamdan.com/en/

Excerpt: https://youtu.be/hSToVjkI278
Event List
08:00 PM Jardin Jnan Sbil