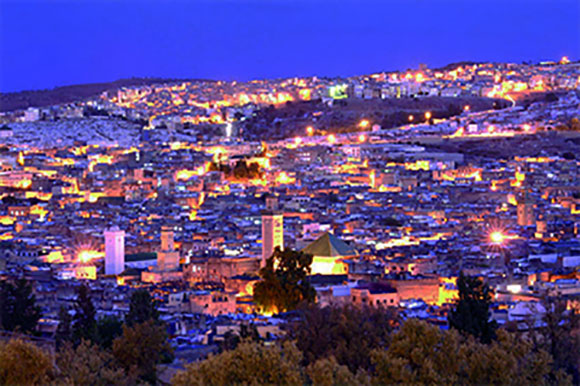 HISTORIC CITY OF THE ARTS
Lively and hospitable, Fes does not give up its secrets easily. From the surrounding hilltops where the Merinid tombs seem to slumber, a shimmering sea of green copper roofs rises above the sun-splashed city walls. While these walls protect both tangible and intangible heritage that takes time to seek out, visitors can see at once that here lies a fascinating city.
For many centuries the political and intellectual capital of Morocco, Fes became a centre for encounter and exchange of culture and knowledge. Innumerable philosophers, researchers, artists and men and women of faith have been welcomed here.
For example, it is said that Sylvestre II, Pope from 999 to 1003, stayed here in his youth to study; it was he who later introduced Arabic numerals into Europe. In the 12th century, the Jewish physician and philosopher Maimonides taught at the Karaouine University which is today the world's oldest university. The works of this philosopher are a wonderful illustration of the symbiosis that existed in mediaeval Andalusia between Jewish and Islamic cultures, a similar echo of which is found in Fes to this day.
A UNIFYING EVENT
With HM King Mohammed VI as royal patron, the Fes Festival of World Sacred Music and its Forum, founded respectively in 1994 and 2001, are dedicated to the city's traditions of knowledge, art and spirituality. Since its creation, this event has enjoyed a growing success. The Festival was designated in 2001 by the United Nations as one of the major events contributing in remarkable fashion to the dialogue between civilisations.
A captivating event, the Festival has featured artists of great international renown from all over the world to share in this quest for the sacred. To name but a few: Joan Baez, Patti Smith, Björk, Ben Harper, Paco de Lucía, Ravi Shankar, Sabah Fakhri, Kadhem Saher, Mounir Bachir, Asmaa Lamnawar, Wadi al Safi, Julia Boutros, Sheikh Yasin al Tuhami, William Christie, Barbara Hendricks, Jessie Norman, Jordi Savall and Montserrat Figueras, Tereza Berganza, Jean-Claude Casadesus, Archie Shepp, Randy Weston, Youssou N'Dour and Salif Keita.
We have enjoyed twenty-two editions with some exciting events, as the Festival also strives to be a nursery that unveils lesser known talents and promotes adventurous projects fresh from the imagination of enterprising musicians and poets. For some years now, the Festival's Artistic Director has presented multi-disciplinary creations on a large scale for the opening concert, where up to 90 artists have been on stage.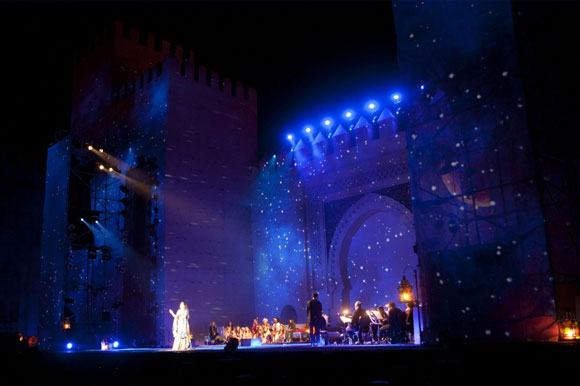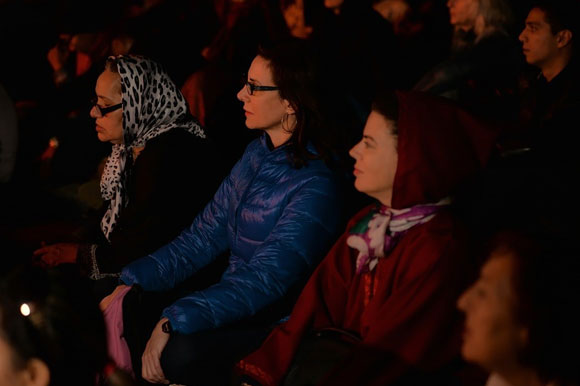 REAWAKENING HERITAGE
A wide diversity of artistic offerings, from prestigious premieres to the popular Sufi Nights and some sixty concerts and shows, all take place in the ancient city.
Festivities are held in venues of great cultural heritage that benefit from being (re-)discovered and appreciated: among them the grand courtyard of Bab al Makina where, once upon a time, official ceremonies of the royal palace were held, and also in riads where the three Nights in the Medina unfold.
THE SPIRIT OF FES ACROSS THE WORLD
Parallel to the Festival an international network of support and media interest has developed. In 2006 in the United States, Spirit of Fes Inc was established. Every two years this organisation presents a programme of musical concerts and Forum events across 20 American cities, including a concert at New York's Carnegie Hall. Today journalists and dignitaries faithfully follow the events.
The dissemination of the 'spirit of Fes' continues to radiate out from Fez to different places across the world. It inspires the creation of similar festivals and each year mobilises up to 100.000 visitors and inhabitants who come to celebrate it.
Its message remains of great relevance today: that of interfaith dialogue through music, the creation of a culture of peace encouraged by globalisation and respectful of ethical and spiritual values.