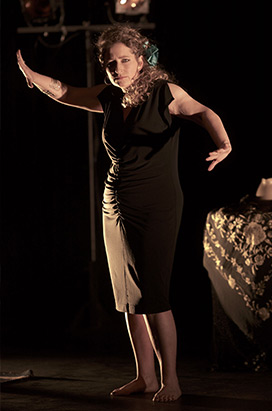 CLAIRE ZALAMANSKY – ¡ Ay Petenera! Sephardic song and gypsy memories – France/Spain
France / Espagne
The sea

Smiles far-off.

Spume teeth,

Sky lips.

~ Federico García Lorca, The Ballad of the Salt Water
Claire Zalamansky brings a decidedly Ottoman feeling to her Judeo-Spanish repertoire, from the time of the three religions in Spain to the Jewish traditions of Salonika and Istanbul.
At the age of 12, she came across Federico García Lorca through Antonio Gadès in Blood Wedding: it was a revelation. Some time later, she began to interpret the Spanish popular songs that had been arranged by Lorca. By chance, she also came across the Judeo-Spanish cancionero, or songbook, and through this Sefarland she began her journey … On the eastern side of the compass, there were yet more discoveries.
Claire Zalamansky combines the eternal story of exile and the mixture of cultures. One is immediately struck by the compatability of her expression and the beauty of her voice. She has a 'natural' voice that is part of traditional interpretation: she began at home with a capella performances along the lines of the vigils of yesteryear.
Today, accompanied by well-established, inspired musicians and using a technique between storytelling and song, she interprets the story of Petenera, a flamenco gypsy singer and dancer born near Cadiz. This is a new show based on a journey of intiation.
Website: http://www.claire-zalamansky.fr/

Excerpt: https://youtu.be/9wFsCzt3qQ8
Event List
06:00 PM Palais Amani