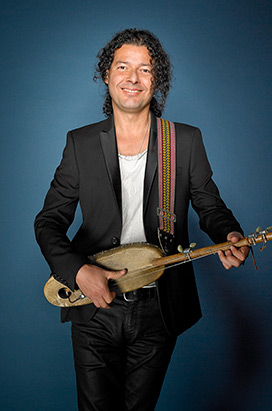 AZIZ SAHMAOUI – Cuban Project – Morocco/Cuba
From the world of African Gnawa to the cult of the Orishas

With Harold Lopez-Nussa, piano

The poet chooses, selects, from the mass of the world, what he wants to preserve, sing, save, and that which agrees with his song. And rhythm is ritual force, as well as a lever of conscience.

~ Edouard Glissant, Poetic Intention
The singer and multi-instrumentalist from Marrakech, Aziz Sahmaoui, has traversed the first few years of this century like a comet with one goal: to reunite the worlds.
It all started seven years ago at the French Kawa bar in the east of Paris. At the back of the room is a tiny stage to host musician friends. Aziz Sahmaoui, one of the founders of the Barbès National Orchestra, was there. With his associate Alioune Wade, he put to the test the melodies that ran around in his head and that stirred his heart. It wasn't long before other African artists heard about it. There's a common denominator between Moroccans and Senegalese: the Gnawa rhythms from sub-Saharan Africa and the unsophisticated trance that serves as a foundation for fertile experiment. The Gnawa University is born.
Aziz Sahmaoui goes further. Right now he is a conduit from a sacred Africa inhabited by its gods, brought to life by its peoples, who have not only crossed the desert but also seas and oceans from the coast of Mogador (Essaouira) to the Caribbean archipelago. This Africa is transplanted onto an island called Cuba full of surpernatural rhythms.
Two years ago Aziz, Alioune, Adhil Mirghani (percussion) and Amen Viana (guitar) took part in the Havana World Music Festival in Cuba. There they formed a musical friendship with the young piano prodigy, Harold Lopez-Nussa, trumpeter Carlos Sarduy (fellow traveller with Chucho Valdès with whom Aziz had collaborated), and some percussionists.
Enthused with renewed energy, they compose and improvise, recycling the influences of their respective countries and rallying a unifying African groove. The Fes Festival presents the first outline of a project freshly hatched from their imaginations and that of their musical hordes, as talented as it is inspired.
'Love of the other and the immense joy of sharing and creating transports artists to a spiritual realm where they are renewed every day and daily life is enriched.'
– Aziz Sahmaoui
Websites: http://www.azizsahmaoui.com/ + http://www.haroldlopeznussa.com/
Event List
04:30 PM Jardin Jnan sbil