SPIRIT ON THE WATER: from the spring to the ocean ‒ Première 2017
We have made from water every living thing.

~ Koran, Surah 21, verse 30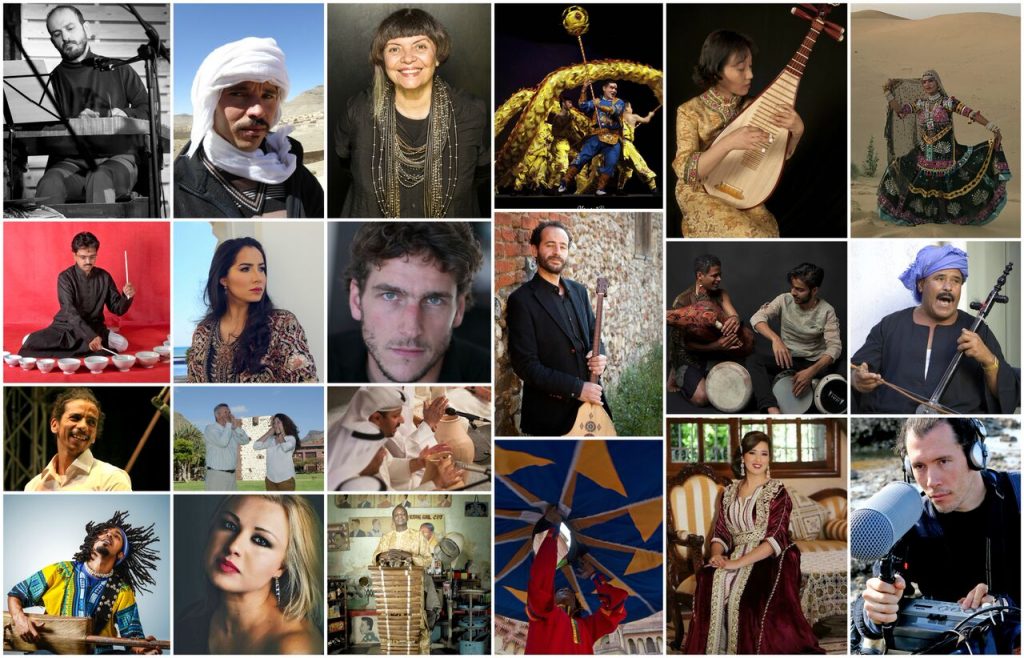 Spirit on the Water takes both an ecological and a spiritual look at water as the source of life, being the theme of this 23rd Festival and addressing respect for the environment as a natural extension of a spiritual approach.
The fountain, or saqaya in Arabic, brings us pure water from the spring. It is thanks to these springs that the great founding cities such as Fes were built. Here, then, is where our tale begins, allowing us to travel from oceans and rivers down to mountain streams.
Spirit on The Water weaves together the sacred and the animal worlds by invoking the story of the flood and the Prophet Jonah (or Younes), full of Biblical, Koranic and Sufi references, and rich Amerindian and Amazonian traditions. It also alludes to the famed myths of antiquity and pays homage to the great civilisations of old: of China, the honoured guest at this festival, of India and the Ganges and of Greece and Egypt. Spirit on the Water explores the importance of respect for water and nature: the future of the earth depends upon it.
The staging of Spirit on the Water, evoking Bob Dylan's song, pays homage to this recent Nobel laureate for literature and is at once contemporary, abstract and organic. And so is the music. The large orchestra borrows from different traditions, all guided by the spirit of nature: onomatopoeia, rustling and lapping, whispers and whale songs, between an aquatic dream and apocalyptic vision.
Mapping, the visual animation projected onto the walls, leads us on a voyage across time dating back to the origins of humanity that is threatened today. Voices, whistles and songs of nature and the animal world create a new symphony dedicated to life.
Alain Weber: conception and direction

Anne Le Gouguec: artistic coordination and general management

Christophe Olivier, assisted by Gaël Boucault: lighting

Franck Marty and Spectaculaires/Allumeurs d'images: scenography (mapping)

Chris Ekers, Erik Loots and Antoine Aïchoun: sound

Rachid Belhasna and Adil El Acchab: stage management

Snafu Wowkonowicz and Aurélie Chauleur: artistic management

Ramzi Aburedwan: musical direction, composition and orchestral arrangements

Gilles Monfort: sound creation

Orchestra comprised of musicians from Belgium, Palestine, the US and France:

Nicolas Draps: first violin

Daniela Ivanova: second violin

Laurent Tardat: viola

Corentin Dalgarno: cello

Alexandre Furnelle: double base

Alfred Hajjar: ney flute

Tammam Saeed: oud

Jean-Jacques Renaut: brass and classical percussion

Tareq Rantisi: percussion

Bachir Rouimi: percussion

Thomas Champagne – saxophone soprano and tenor

From Brazil:

Marlui Miranda: voice, percussion

Caito Marcondes: percussion

From China:

Wu Opera from Zhejiang

Lingling Yu: pipa lute

From Egypt:

Mohamed Mourad Migally: voice and rabab fiddle

Bahaa Mohamed Mourad Migally: darbouka drum

Mobarak Youssef Mobarak Youssef: voice

Aboubakr Mohammed Mourad Migally: daf drum

Mohamed Moustafa Bikhit Dahy: magician

Abdelrahman Hany Mohamed Morad: tanoura dance

Salame Mahmoud Mohamed Abdelrehim: tanoura dance

El Naggar Mohamed Morad Megally: daf drum

El Hamy Mohamed Mourad Megally: voice and rabab fiddle

Ramadan Hassane Youssef Aly: voice and rabab fiddle

From Spain:

Whistlers from the island of Gomera with Eugenio Darias-Darias

From France:

Frédéric Baron: comedy

From Greece:

Christina Koza: voice

Vangelis Pachalidis: santour

From India:

Milind Tulankar: jal tarang percussion

Ojas Adhivi: tabla

Suva Devi Kalbelya: dance

From Iran (Persian Gulf):

Saeed Shanbehzadeh: neyanban (bagpipe), neydjofti (flute), dammam drum

Naghib Shanbehzadeh: tombak drum, zarbetempo (percussion)

From Kuwait:

Salman El Ammari and Al Maas Ensemble: songs of the pearlfishers

From Morocco:

Ulysse with Shemsy: Chinese mast

Whistlers from the High Atlas

Mehdi Nassouli: guembri and voice

From Mali:

Lansiné Kouyaté: balafon

Hamid Anbassi: technical direction

Abdelkader Ouazzani: production

Siham Nejjar: reception and logistics

Khadija Filali: administration

Mohammed Ichoua: financial direction

Edith Nicol: communication
With thanks to the Embassy and the Ministry of Culture of the People's Republic of China, to Linghui Xie, Zainab Afailal, Alain Laeron, Kyriakos Kalaitzidis, Soudabeh Kia, Miriam and Christian Ledoux, Corinne Serres, Gérard Pucheu and Lhou Marghine for their co-operation and artistic guidance.
Event Location
Place Bab Makina