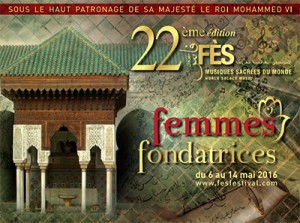 This year we are embarking on a journey to a world made sacred by the intelligence and grace of the women of our ancestral heritage. From a far-flung Orient, these brave women were poets and musicians who held the jewels of knowledge.
These women spread their knowledge, and here are symbolised by Oum El Banine, or Fatima El Fihriya, who endowed the Karaouine Mosque and University in Fes.
Retrouvez les meilleurs moments du Festival des Musiques Sacrées, du Festival dans la Ville, du Forum de Fès.